In a previous post, I showed you how to get around a frustration that many Excel users have when creating an Excel Dashboard chart.  They want to modify a chart series in a graph they have made, but there are so many series that they can't select the series or they can't even see series because it is not showing up on the chart.  Really this grew out of my own frustration

but I thought I could help other Excel users that might be having the same problem.  You can check out this post here as it deals with several ways that you can select a chart series that appears to be un-selectable:
So I have so many Awesome readers I got a replay that I just had to post as well.  In fact, I bet that most of my readers know of an Excel tip or trick that I am not aware of.  That is the great thing and also can be a bad thing about Excel, in that there are many, many ways that the same thing can be done in Excel.
This clever reader of mine posted a comment that you can also select a series and change it by selecting it from the legend.  Did you know this?  Maybe they teach this in an Excel class for charting or graphs, but since I was mostly self taught and didn't start out by learning Excel from a formal class, maybe everyone knows this but me???  I am not sure, but let me know in the comments if this is how you select a data series in an Excel chart or if this is a new trick for you.
Alright, enough with the words, show me something already

.  Well you can see this technique in action in the video below.  But it is as simple as this:
The Quickest Way to Select an Un-Selectable Series
1) Click on the legend in the chart (Note: if you don't have a legend in your chart, you can add it from the Layout Ribbon after you have clicked on the chart)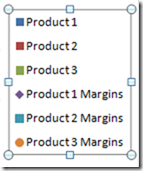 2) Click on the legend entry for the data series that you want to select.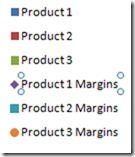 3) Then right click on the legend entry to do what you want with that series (i.e. Change the Chart Type,Open the Format Data Series, etc)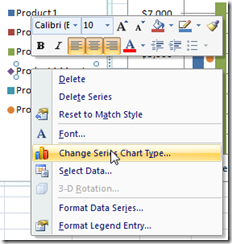 Video Demonstration
You can see this technique in this video tutorial:
What are your favorite tips or tricks in Excel?  Let me know in the comments section below.  Also, don't forget to subscribe to my Excel Dashboard Template blog so that you are sure to get the latest and greatest tips and tricks delivered directly to your inbox the minute they are completed.
Steve=True