With all the new affordable touch screen computers out there, you may have purchased one.  However, if you are like me, you may have large fingers and trouble using your laptop's touch capabilities in Excel.
Well Microsoft thought of this issue for us.
In my current Excel 2013 version, I noticed that I now have this option automatically appearing in my QuickAccess Toolbar in Excel.

When you click on this new QuickAccess Button, you will see this help text menu: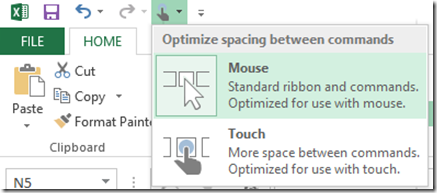 Mouse: Standard ribbon and commands.  Optimized for use with mouse.
Touch: More space between commands.  Optimized for use with touch.
The default is Mouse Mode.  You ribbons and commands will have the normal spacing that you are used to seeing.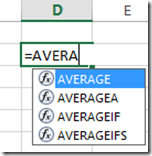 Mouse Mode

 Touch Mode
You will notice that not only is there more space, but there are less descriptions of the buttons and smaller icons.  For instance, the Wrap Text description is gone and you now only see the icon.  Also, the Format as Table button text and icons are both smaller.
Video Demonstration:

So if you have a touch device are you using the Touch Mode?  Let me know in the comments below.
Steve=True