Frequently when working in Excel, I will need to copy an entire worksheet.
Copying an entire worksheet is particularly helpful when you are need to copy an Excel Chart
Check out that post here:
How-to Copy Charts and Change References to New Worksheet
It is also very helpful when you want to experiment with a dataset to build new dashboard charts.
Now in the past I have followed this technique when copying a worksheet:
1) First Right Click on the sheet where the original chart and data series are stored.
2) Click on Move or Copy… from the Excel Menu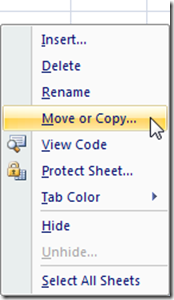 3) Then select the "Create a copy" checkbox in the Move or Copy Dialog Box.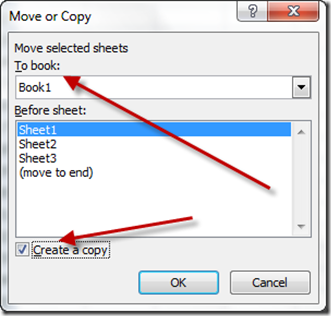 4) Click on the OK button to close out the Excel Dialog Box
A Quicker Way to Copy a Worksheet in an Excel Workbook
But I just found a faster way that I never knew about.
I think it is the quickest way that I know to create a copy of the Excel worksheet.
1) First Select the Worksheet that you want to copy in the Excel Workbook.

2) Then Press and Hold your Control (CTRL) Key.  Then you can click and drag the the worksheet tab and drop it wherever you want to leave the worksheet copy.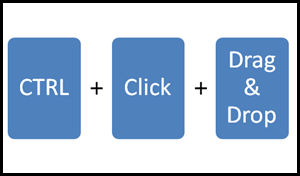 Your cursor and worksheet will look like this, with a small worksheet and "+" symbol above your cursor position.  This is how you know you have done it right to make a copy.  If you do not see the "+" symbol, then you are only moving the worksheet.

When you finally drop it, you will now have a copy of your worksheet.

Little things that I do every single day in Excel and I never knew that quick Excel Tip / Excel Trick.
Here is a quick free video tutorial showing you this in action:

What is your favorite Excel Tip or Trick that you use every day?
Let me know in the comments.
Steve=True