When creating my Microsoft Excel Dashboard Templates, I frequently create a chart to see how it would look and I don't always keep them.  So I need a quick way to create an Excel Chart or Graph to see how the data lays out.  If you just need a quick Spreadsheet Chart using Excel, here are the 2 quickest ways I know to make these graphs.  They both involve keyboard shortcuts.  Both will create a chart based on the chosen default chart type.  Typically, most default to a 2-D Clustered Column chart.  Here are the details.
1) First, create your chart data range in an Excel Worksheet and then highlight that range: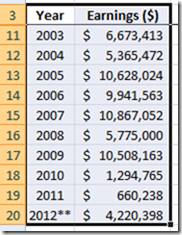 2) Next, you need to decide do you want an Embedded Excel Chart (see B below) or do you want the the resulting chart to appear on its own Chart Sheet (see A below)?
A) To create the Excel Chart on a stand alone Excel Worksheet known as a Chart Sheet, after you have highlighted your Chart Range, simply press the "F11" key and your chart will be created in a new worksheet within the Excel Workbook.
See how it creates the chart on a stand-alone worksheet and is titled Chart1?  Although this is nice for full page printing, it is not a great use of Dashboard real estate and would not be thought of as good Dashboard Design.  Typically most Dashboard Designers would embed the graph in an Excel Worksheet.  That is what we will show next.
B) To create the Excel Chart that is Embedded in an existing Excel Worksheet, after you have highlighted your Chart Range, simply press the "Alt+F1" key and your chart will be created in the current Excel worksheet.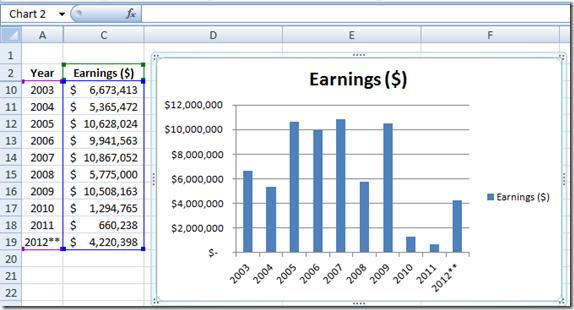 These charts are resizable and are great for most dashboards as they show most data that users need to see.  Another good reason to embed your charts in a worksheet is that you can combine it with information in your worksheet cells to create a great dashboard.  This is NOT something that you can do in a Chart Sheet.  I will have future posts on good chart and dashboard design.
Here is a short video demonstrating these techniques:

Do you know of a faster way to create a chart?  If so, let me know if the comments.
Thanks for visiting my blog.  Make sure you sign up as a registered user so that you receive the next Excel Dashboard Template post.
Steve=True